Join Our Healthcare Practitioner Program
Intimate Wellness is More Than Sexual Wellness

"Sex" is only a tiny slice of living in a body- maybe once or twice a week, or if you're lucky everyday. For many people, it's even less frequently. But we women live with our intimate parts 24/7/365 for 81 years on average. It's not like this part of the body vanishes when we're not engaged in sex. Women have many more needs throughout their life cycle than solely sexual support. This is why we call the category intimate wellness, not sexual wellness."
- Christine Mason
Intimate Wellness is Multidimensional
OTC Intimate Wellness Includes:
Intimate Education
PsychoEmotional
Physical
Behavioral Information Exchange
Sexual Wellness
Lubrication
Pleasure
Toys
Period Care
Pads
Tampons
Period supplements
Intimate Skin Care
Vulvar Moisturizers
Cleansers
Toners
Feminine Hygiene
Other targeted topical
Suppositories
Cultural Context Impacts Women's Sexual Wellness
From our women's circles around the nation, we have learned that shame around "women's issues" (such as beliefs of being dirty, not being a complete female, not being adequate) inhibits women's willingness to talk about a wide range of concerns. It also inhibits seeking family or spousal support, inhibits or delays a willingness to seek professional help, and impacts subsequent rates of healing. In addition, lack of education on what's "normal" with regard to genitalia, menses, reproduction, sexuality, and sexual appetites, STDs and pregnancies, lifecycles and normal changes in hormones leaves a lot of people suffering unnecessarily.

What we've noticed is that women's health concerns are often treated as if they don't live nested in larger cultural, familial and personal contexts and beliefs. Sexual and reproductive health concerns are treated as highly speciated medical conditions. While quite often that is the case, the optimization of a woman's psycho-emotional experience of sensuality, embodiment, arousal, and sexual pleasure is hardly discussed at all, and when it is, it's quite often treated as a personal libido deficit, rarely a communal cultural issue.
Top Self-Described Skin Needs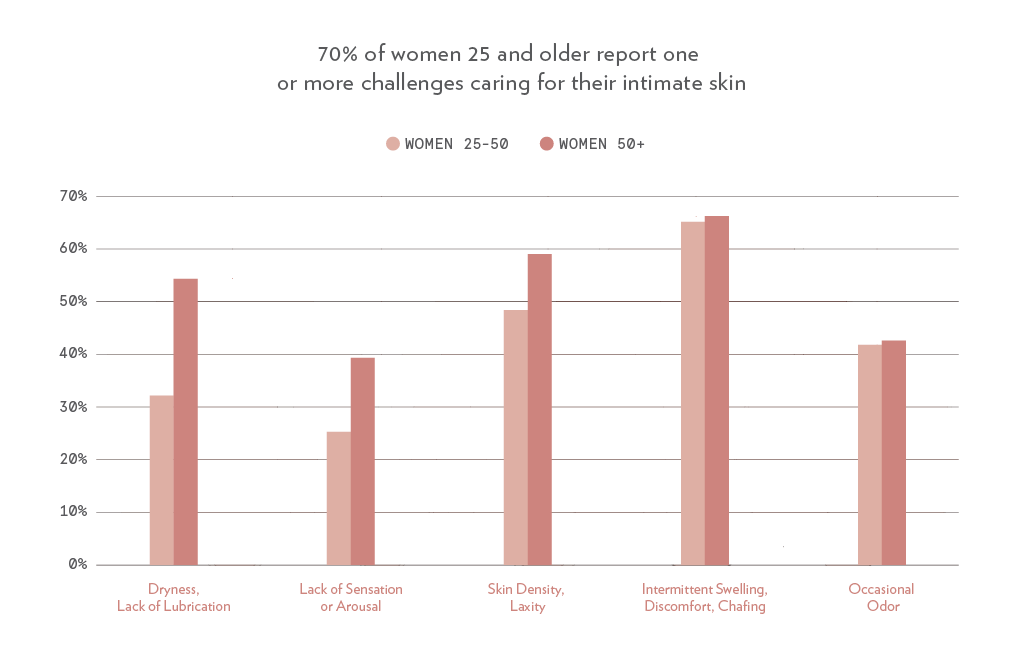 Needs Arise Throughout the Normal
Course of a Woman's Life
For example:
Dryness

from perimenopause or menopause, or surgical menopause

Dryness

from medications (antidepressants, statins, chemotherapy)

Lack

of sensation from pelvic basin numbing, trauma, blood flow

Discomfort

from childbirth: perineal preparation, healing from perineal tearing (NIH study), scarring, postnatal intercourse

Irritation

from chafing, sex, fabrics, hot box environments, certain sports, waxing, soaps and surfactants

Discomfort

arising from external bacteria that migrates into the vaginome
What Providers Are Saying About Rosebud Woman
Liz Janowski, CEO Sonata Aesthetics
"We've found the Honor balm to be an excellent product that supports the wellness of our female clientele. It supports vaginal health and tissue regeneration in a soothing and beautiful formulation that is good for all skin types. We have used it in conjunction with non-surgical vaginal rejuvenation treatments. Patients report to us improvement in vaginal lubrication and an overall increased satisfaction with their intimate areas."
Dr. Sallie Sarrell, PT, ATC, DPT
"I had an unfortunate and unexpected surgical complication this spring with was surgical menopause. I'm so glad I had the honor balm because while my estrogen levels were building from the bioidenticals the balm helped prevent a lot of dryness issues. It's a great product."
Jenny Archer PT, DPT, COMT Archer Physical Therapy
"I love Rosebud Honor Balm. I started using this product 3 months postpartum and immediately noticed improvement in dryness and sensitivity. I'm also a pelvic health physical therapist and after my great results I shared it with a few patients. My menopausal patients have said it's relieved vulvar burning and irritation they've had for years which allowed one to get off of her hormonal cream. My postpartum patients notice the same improvements that I did. I like knowing that the ingredients are safe but still effective for this patient population and I'm happy to share this product with patients, friends, and family."
Health Professionals Who Carry & Recommend Our Products
Partner with Us to Advance Women's Intimate Wellness
Receive samples, education and inspiration that help normalize the needs and desires of women.