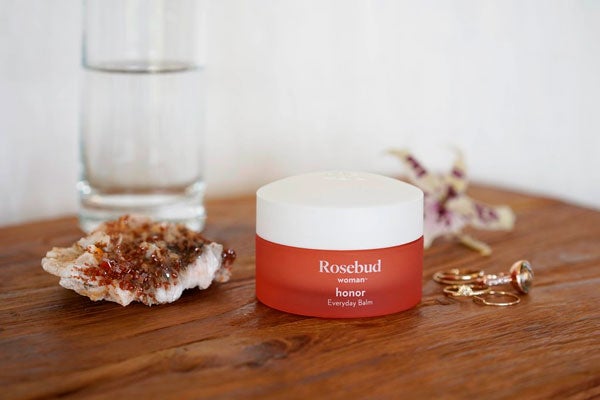 honor helps to
improve hydration, suppleness, youthful texture, lubrication, rebuilding and repairing
In the jar, Honor is a thick, translucent unguent, and when placed on the skin it dissolves quickly into a luscious oil, with 10 to 15 minutes of "play time". Honor has a tender scent and a great texture. Our full-size jar is generously sized and meant to be used every day. Full sized jars often last 90 days with typical use.
Excellent for pre and post natal care of the perineum and labia. Excellent for daily self massage. Excellent for menopausal skin.
how to use your Honor Everyday Balm
Scoop out a small amount with clean, dry fingers and massage into vulvar skin (includes inner and/or outer labia). Use daily for hydration or anytime you need relief from vaginal dryness or discomfort. We recommend that it's kept on the nightstand or bedside table, and used before bed as a self-care ritual: Massage yourself starting at the hip bones, working into the pressure points on the pubic bone, the inner thigh, and the groin, then onto the inner and outer labia and, finally, the inner fold including the clitoris. This is a great time for a little loving affirmation, too! Leave the balm on, allowing its active plant ingredients to work overnight.
formulated for your body
Maintaining healthy and supple tissue over time requires loving, reverent attention to our skin's evolving needs. Key ingredients include Bisabolol, an extract of chamomile, that has had some great studies on its effectiveness in supporting lax and thin tissues, and other ingredients that help with skin repair. Honor was formulated with an ultra-emollient texture. Honor's plant ingredients help to repair, hydrate, and rebuild buoyancy.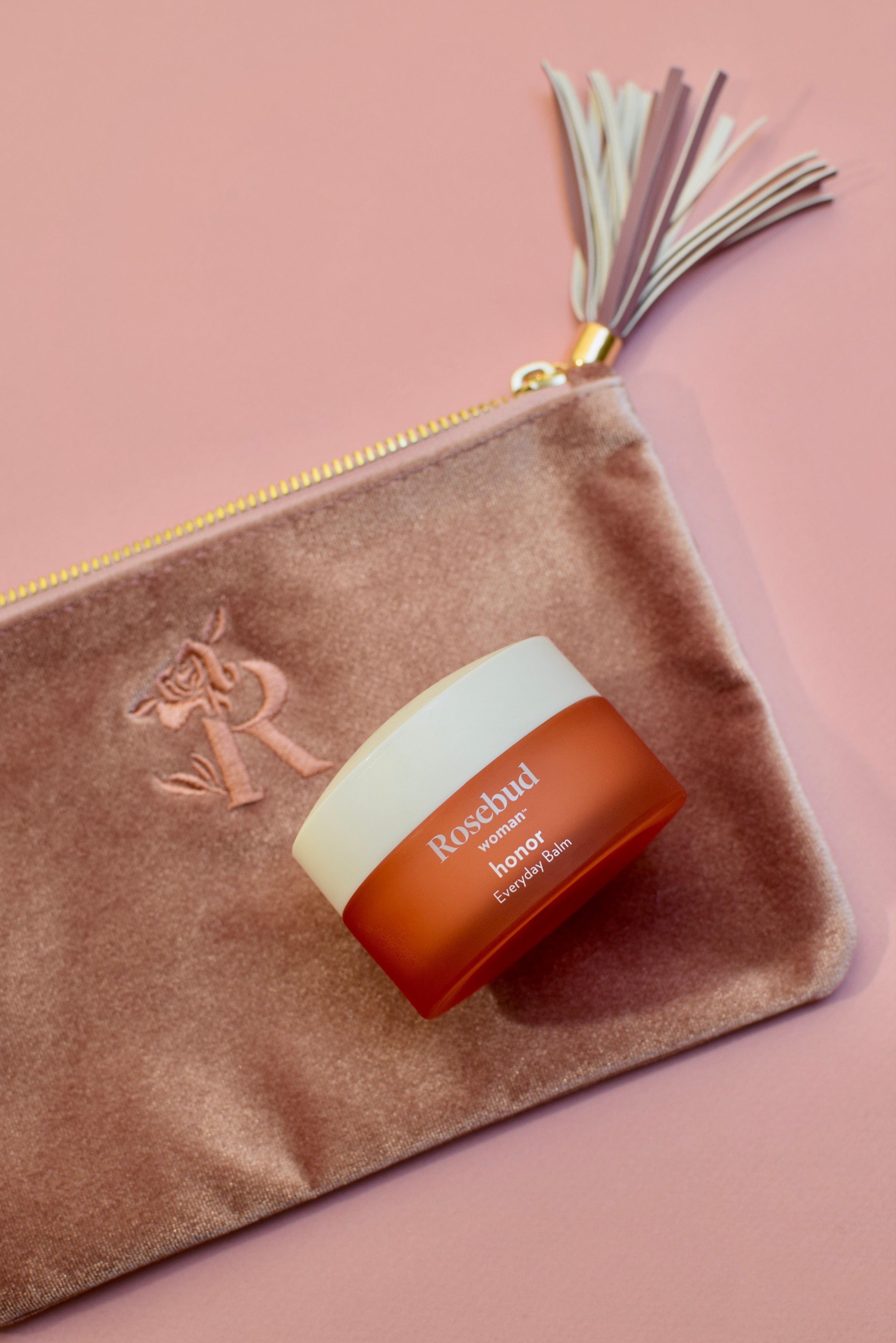 Absolutely love this balm! Beautiful feel and scent. Nourishing and moisturizing. Perfect in every way. I have tried others and this is my absolute favorite. My body loves it too.
Mika B.
view more
featured ingredients
Honor features a patented complex of bisabolol (extracted from chamomile), ginger extract and phytosterols which together form a skin barrier strengthening complex. This mimics key components of the body's own barrier lipids. When applied, these ingredients help to quickly restore the barrier integrity, accelerate recovery, strengthen skin, protect against moisture loss and dryness, improve already dry skin, reduce redness, and scavenge radicals. This ingredient group has triple anti-irritant efficacy, and inhibits IL-1α, Tnf α, CoX-2 and PGE2.
White Meadowfoam
Meadowfoam oil is an excellent moisturizer and is used in many natural skincare lines to hydrate and rejuvenate skin. With its gentle and restorative properties, it is a wonderful choice for those with dry, sensitive, or damaged skin.
Ginger
Oil made from ginger is thought to relieve pain, and some people apply ginger juice directly to burns and wounds.
frequently asked questions
Absolutely! Our organic plant-based balm is great for a number of uses including but not limited to scar treatment, pre & post-natal, everyday hydration, and much more.
Honor balm can be used at any time of day, but we find it's a great night time self-care ritual before bed.
The Honor Everyday Balm generally lasts about 90 days or longer- likely less than $1 day if you are using it regularly. A little goes a very long way. After just a few days of usage, most women experience significant relief from dryness and discomfort.
Yes, the Honor Everyday Balm is 100% hormone free and is all natural, as are all of the Rosebud products.
The Honor Everyday Balm is not compatible with condoms because it is an oil-based product and oil breaks down condoms, thus decreasing the effectiveness.
Yes! It is great for rebuilding and repairing thinning skin in the vaginal wall.
If you have a known allergy to any specific plant, please make sure it's not in the ingredients (all are published on the site on the ingredients tab on each product). In the first ten thousand users, we've had two reports of sensitivity. Please try the
travel kit
if you're worried about a reaction and test it on your inner elbow, inner wrist or the back of the knee, which have the most sensitivity.
All of our products are plant-based and have no hormone-disrupting ingredients. As we aren't a medical company or health practitioners, we cannot advise on the use for pregnancy specifically but do recommend checking the ingredients as we're fully transparent. The ingredients, in general, are great for reducing inflammation, redness, itchiness with peppermint, lavender, arnica, comfrey, calendula, and more! Our customers love using Honor on their growing bellies as well - check out more Rosebud
prenatal/postpartum products
!
While the Honor Balm wasn't made to be a lubricant, it works amazingly well as one. That's another added benefit of our favorite product. Our 3-in-1
stimulating serum
is also a great product to use for lubrication.